Interview with Lukas Nelson and Promise of the Real
by Joseph Christ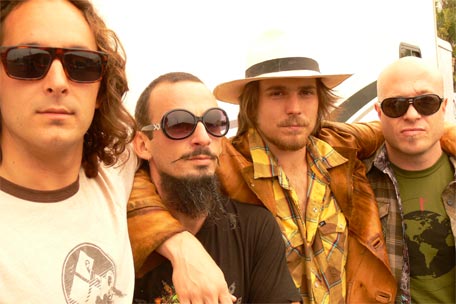 Before Lukas Nelson performed at the Malibu Inn in Malibu, CA on December 16, 2011, I was able to spend an hour with the band talking about their new album, album sales, plans for the future and more. Promise of the Real is: Lukas Nelson (guitar/vocals), Anthony LoGerfo (drums), Corey McCormick (bass) and Tato Melgar (percussion).
JC: You guys are working on a new album. How far along are you and when can we expect it to be released?
Anthony LoGerfo: We don't know when it's coming out. It's done, we're just waiting until the year is done and then we will tour with it next year. It will be out before April.
JC: Where was it recorded?
AL: Nashville. It was recorded by a guy named Jim Moose Brown and he's a great guy. He helped produce it with us and he's a great musician, too. He has a wonderful studio in Nashville, in the woods. We went out there, hung out and had a great time recording it. We recorded the whole thing in ten days, I think. And then we mixed it in Austin, Texas, at Pedernales studio, where we did the first album. And then we did some analog to digital transfers at a studio in Northern California, called Redwood Studio.
JC: Are the songs on the album all original?
AL: All original this time, yep! They were all written this last summer by Lukas.
JC: How many tracks are on the new album?
Lukas Nelson: 13? 14?....14.
JC: You guys are an unsigned band. Do you hope to be picked up by a major label at some point?
LN: We're open to anything. As long as it works, as long as it's right and doesn't compromise our integrity. That's the whole idea of the band, you know? We're "Promise of the Real," trying to be real. So if somebody comes to us with a bunch of money and says, "do this and this and write a song like this and this," then we're not going to do it. But if someone says "hey, we really like your stuff and we want to help you out to do what you do and allow you to reach more people," then yeah, we'll do it.
JC: Lukas, you were going to school before you decided to form Promise of the Real, where were you going and what were you studying?
LN: Music...At Loyola Marymount University.
JC: What made you decide to quit school?
LN: It was just boring. I was bored.
JC: What were you all doing before you joined the band?
Corey McCormick: I was teaching high school - it was horrible (laughs). No, actually, it wasn't that bad. And I was working as a musician and teaching private jazz lessons out of college.
JC: What were you doing before you joined? (to Tato)
Tato Melgar: Everything. Music, landscaping, construction...whatever. Coffee...I make coffee, you want some coffee? (laughs)
JC: Sure! That would be nice. (laughs) What were you doing? (to Anthony)
AL: I was playing in town, and touring too. Hanging out on the beach, being a beach bum on my time off I guess. Corey and I played together for a while before. We played in a couple of different bands before, so we have been jamming together for about 8 years before the band started.
JC: How many copies of your self-titled album have you sold?
AL: Hmm...Well, let's just say that the Promise of the Real record has sold over 20,000 copies in less than a year.
JC: How do you guys feel about that?
LN/AL: Its pretty cool, yeah..and all independent.
AL: I think the EP has done about the same, so maybe 35,000 records combined.
JC: That's really cool, you guys should be proud. Have you thought about releasing a full-length live album or DVD of one of your shows?
AL/LN: It will happen at some point. We talk about it, but it will happen.
JC: I hope so. Thanks for making your music, and thanks for talking with me!
For more information about Lukas Nelson and Promise of the Real, like listening to some tunes or finding upcoming shows, check out their website.
---
Interview Bio - Joseph Christ