The Ladybirds Interview
by Nancy Woo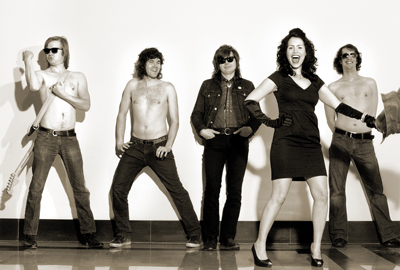 The Ladybirds are a dynamic five-piece rock and roll outfit, whose main hobbies include drinking bourbon late into the night, playing vinyl records as loud as possible, rotating drummers and impressing locals with their high-energy live shows. They talk the talk and walk the walk with their retro garage blend of 50s rockabilly, surf rock, a little country and a whole lot of punk rock attitude, influenced by the great, early eras of rock music. The five jumpin' and jivin' members are Jaxon Swain (bass), Max Baliiet (guitar), Anthony Fossaluzza (organ), Brett Holsclaw (drums), and Sarah Teeple (vocals).

Online Rock thoroughly enjoyed the opportunity to chat with the lively Sarah Teeple, or "Sarahbird," front lady of the band. She gave us some great insight on the intersection of retro music and the modern indie scene, with some interesting behind-the-scene tidbits about The Ladybirds, including the origin of the band name and a song based on a biker hangout. Look out for their wildly fun album Shimmy Shimmy Dang!, out on Departure Records September 6, 2011. In the meantime, visit their website, where you can listen to "Shallow Orbit" and "Shimmy Shimmy Dang!"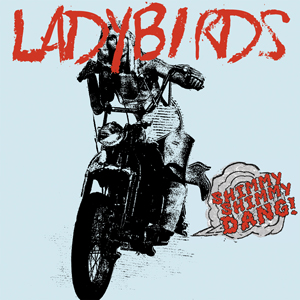 Sarahbird, it's great to talk to you! First off, I love your sound, and the album delighted me to no end. Can you describe the sound of the Ladybirds for our readers and also maybe how you reached it?

Absolutely. First off, we just call ourselves a rock and roll band because it's the kind of music that we love, 50s and 60s rock and roll, and rockabilly, that sort of music. We've got a little surf rock and a country bit, too. Nowadays, since rock is such a broad genre, people call it a throwback sound, and that's okay because it's what we love. But we reached that sound because it's the sort of music we are all into. We're all kind of punk rockers at heart, so we listen to the music that punk music was derived from. Rock and roll, rockabilly, Chuck Berry, early Stones, even up to the early 70s, MC5, the Stooges, New York Dolls - those were big influences for us.

The album is full of different sounds and styles. It's definitely an interesting and fun ride through the whole thing. How did it come about?

Thank you! These songs were in the works for almost two years. We had the classic rock and roll cliche with revolving drummers (laughs), so a lot of the songs have been in the works for a while. It was a collaborative effort, and we did end up with a diverse array of music. But we weren't trying to be like, "look how eclectic we are." I think that's kind of annoying. But we are proud to have an array to offer, and it's just kind of the way it worked out.

How do you take all these styles and sounds from decades ago and make the music your own?

Great question. I think the way we make it our own is what sets us apart. We're different from other throwback bands in that we're not trying to be campy or kitschy, but we just kind of love those sounds. We make it our own vibe, throwing in a guitar or organ solo here and there, because our guitarist, Max, and our organist Anthony can really wail on their instruments. In lyrics and subject matter, we try to be a little bit sweet and a little badass too. We've got sort of a bubble gummy sound with lyrics about getting laid and drinking, so it's kind of an interesting juxtaposition there. Gotta have a little bite.

Where do you think retro music fits into the modern music scene?

I hope that it fits in to the modern scene. I think it definitely does. At our live shows we bring a pretty fun time and enjoy the shows. Right now it seems like being in a rock and roll band, I don't see it very much of it in the mainstream. But mainstream music is kind of its own thing. Hopefully there will be a little revival of this type of music, and we can help spur it on. I think everyone, no matter what music camp they identify with, likes to rock. Just getting drunk and rocking down is what people love to do, so hopefully we can bring that through with our music.

You mentioned it a little before, but what would you say are your biggest influences?

Well, starting out early, Chuck Berry. We have some surf instrumental, so bands like The Ventures and guitarists like Dwayne Eddy. My personal influence is The Pleasure Seekers, Suzie Quatro's first band with her sister. They were an all girl garage group, and as we know, any girl group we love. Also, early Phil Spector productions, the Ronnettes, the Crystals. That "Wall of Sound" sort of approach was a big inspiration for us recording this album. When it comes out, the CD is in stereo but we have a vinyl version in mono. We're all vinyl heads, so we're really excited to get that out there. The Sonics, Van Morrison's first band, 13th floor elevators, Roky Erickson.

Our band name is actually...well, first of all, in the University of Louisville, there's a dance team called the Ladybirds. A lot of people think we must love basketball to be named after the cheerleading team. People around here think it's an homage, until of course you hear the music and you realize that's not at all what it's about. We're named after a Sinatra song. It's a Nancy Sinatra and Lee Hazlewood song they sing together called "Lady Bird." And the five of us are the least sporty people you could hope to meet, so it's kind of ironic (laughs).

Being a retro styled band, which always brings certain images to people since it's associated with another era, do you think that style, attitude and musical taste all go hand in hand for the Ladybirds?

I do. It's in the clothes that we wear, and Baliiet has big hair. Not to sound cliche, we kind of live the rock and roll lifestyle, and we listen to a lot of records, drink a lot of bourbon, stay up late and dance around. All the stuff we listen to and surround ourselves with we love. Jaxon, our bass player, works at a record shop, I work at a vintage store, and we're all into old cars and old stuff.

When I listen to the Ladybirds, I am reminded of an era I never lived through, but it still feels familiar. I picture the Pink Ladies in my head, and everything Grease.

Yes!

So as we are here living through the second decade of the 21st century, what do you think is behind this attraction to a different era?

Great question. We like to think ourselves as badasses. For me, I love rock and roll music and the rock and roll attitude. The older style and older music, I feel, is more authentic. If you listen to any style of music, you tend to start going back further and further, asking, "Who was this person influenced by?" If you really love something, you want to know its origins. We've been educating ourselves in that way. That's how we're inspired.

That's a great answer. About the Ladybirds, how long have you been together as a band and how did you form?

We've been together as a band for almost six years. It was slow going at first. It was always Jaxon on bass and Max, our guitarist, and me. We all met at Indiana University in Bloomington where we went to school. We all loved the same type of music, staying up late drinking, listening to music and getting down together. Jack lived in Bloomington and Max was in Louisville, so we started the band there, found a drummer. The original concept was to have me as lead singer and three girl back-up singers, but we turned out having no luck at all with that. We went through several drummers, and then we added Anthony, our organ player, who is a virtuoso and awesome. He joined four years ago, but that also wasn't a part of our original vision. The initial idea was to be like the Ronnettes meets the New York Dolls, but it worked out awesomely. It's definitely been an evolution.

So you're happy with the way things worked out?

So happy with the way it ended up working out. Our current drummer Brett has been with us about two years. As five members we work so well together and we have so much fun. It's a labor of love, partying and getting down together, and the music comes from a deep place for all of us. The sound I'm happy with, too. We all make our contributions. Jaxon wrote most of the other songs, but we all conceptualized a few here. It was a collaborative effort. And we have a good stage dynamic.

What are your live shows like, and what's your following like in Louisville?

Well, they're pretty high energy. The album sounds excellent and I'm so proud of it, but we really rock live. It's lively, energetic. We're all dancing around, and even though it's not what you think of as head-banging music, Jaxon and Max are flopping around their big hair and we're all running around having a lot of fun together. We drink a lot of beer... sometimes take shots of whiskey with audience members. And to answer the second part of the question, our following in Louisville varies. We get people into different genres of music, from country to rockabilly to indie rock. It's a diverse audience, and lately we've been getting out of town a lot more. With the new album release we'll be touring a lot so hopefully bring out lots of different crowds.

So is this your first album?

It's our second album. We released a full-length album called Whiskey and Wine in 2006, before we had Anthony on organ and with, surprise, surprise, a different drummer. That was when we were really fresh and really young as a band. It was kind of a kamikaze recording project. We had $200 and a friend who ran a studio here in town. We've got a website that we'll be launching soon, with some of those tracks available. It's similar in style, but a little more classic rock and roll/rockabilly. The production is simple and we're really proud of it, it was a lot of fun, but we've come a long way since then.

I hear a lot of different styles in Shimmy Shimmy Dang!, and it is just plain fun. I love the Theremin in "Shallow Orbit." What other instruments does the band use?

It's not a true Theremin, though we know those and think those are totally awesome. That's one of Anthony's productions and he's super into surf music. He's probably the world's leading expert on the Beach Boys and their huge and prolific catalog. He calls the effect a space whistle - it's not a whistle, but that's what it sort of sounds like. He'll be happy to hear it sounded just like a Theremin, I'll have to tell him that.

We'll be playing a CD release show, and we'll probably have a small horn section there. Probably also have some other fellow female vocalists back us on a couple songs. So yeah, we've definitely played shows where we had a saxophone or trumpet on a couple of songs. Anthony is definitely a collector of lots of different instruments so it's probably just a matter of time before we get a real Theremin and lots of other good stuff.

Do you have a favorite song off the album?

It kind of changes when you spend so much time on a project. You know, there are certain times when you can't stand certain things. The sleeper hit for me is "Who you with." I kind of conceptualized that one, and it's about a woman walking down the street and getting hit on and her snappy retorts. It's a fun one and badass. The title actually came from... our old practice was in a ghetto area and below the space was a motorcycle club, a weird, secret place where you probably needed a password. No one could come in unless you were a member and there'd be 30 bikers hanging out and going into practice sometimes we'd be a little edgy. They'd eyeball us and we'd just sort of make our way past them, sometimes we'd get called at and that sort of thing. Anyway, the place was called Who You Wit,' with an apostrophe.

How long have you been a singer, and is this something you always wanted to do?

Actually yes, as a little girl growing up, I adored Cindy Lauper and I watched MTV when it used to actually have music videos. I remember staying up late watching Twisted Sister videos. I adored rock and roll, but the super logical parent side of me never pursued it as much as I wanted to in my teens and early twenties. But I started a punk rock band Cryptkicker 5 in Bloomington around 2002, and that's when I was like, "Oh wow, this is amazing. I've always wanted to do this, and now I'm doing it." The other guys were all in bands as teenagers, so I guess I was a late bloomer in that respect, but I was always a rock and roll enthusiast.

Thank you, Sarahbird! It was such a pleasure talking with you. I enjoyed the album and hope to see you guys on the west coast sometime soon!

Don't forget to pick up the album Shimmy Shimmy Dang! out September 6, 2011. Also check out the Ladybirds' Facebook page for more.


---
Interview Bio - Nancy Woo, managing editor at OnlineRock, studied Sociology, Literature and Environmental Studies at UC Santa Cruz. A self-described "bohemian of sorts" she spends most of her time listening to music, reading, writing, freelancing in the world of journalism, tutoring writing, running, practicing yoga, attending live music and theater shows.