A World of Tone at Every Session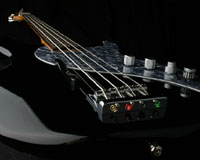 Ever wish you could take just one bass to a session that could go from round, vintage warmth to modern, active pickup punch? What if you could take that jazz gig and not have to squeeze an acoustic bass in your trunk or on the subway?
With Variax Bass 700, you can show up to any live gig or studio date with the confidence your tone will always be perfect for any tune. Best of all, that's just the beginning of what you can do with a Variax Bass 700. Click here for more information.